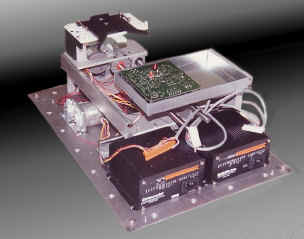 An internal wafer handling mechanism and enclosure was designed for the this wafer inspector system.
The enclosures were designed by Rick Fayram and Chuck Dewey; Sera Solar was Chuck Deweys client. Rick Fayram had significant responsibility in the design, including aesthetic development and much of the mechanical design.
Enclosure is made of cold rolled steel sheet metal, with pressure formed ABS plastic bezel on the front door.
The custom designed wafer handler was designed with stepper motors driving positioning screws.